Laura Gorman, RN Joins MTI America as Dental Product Leader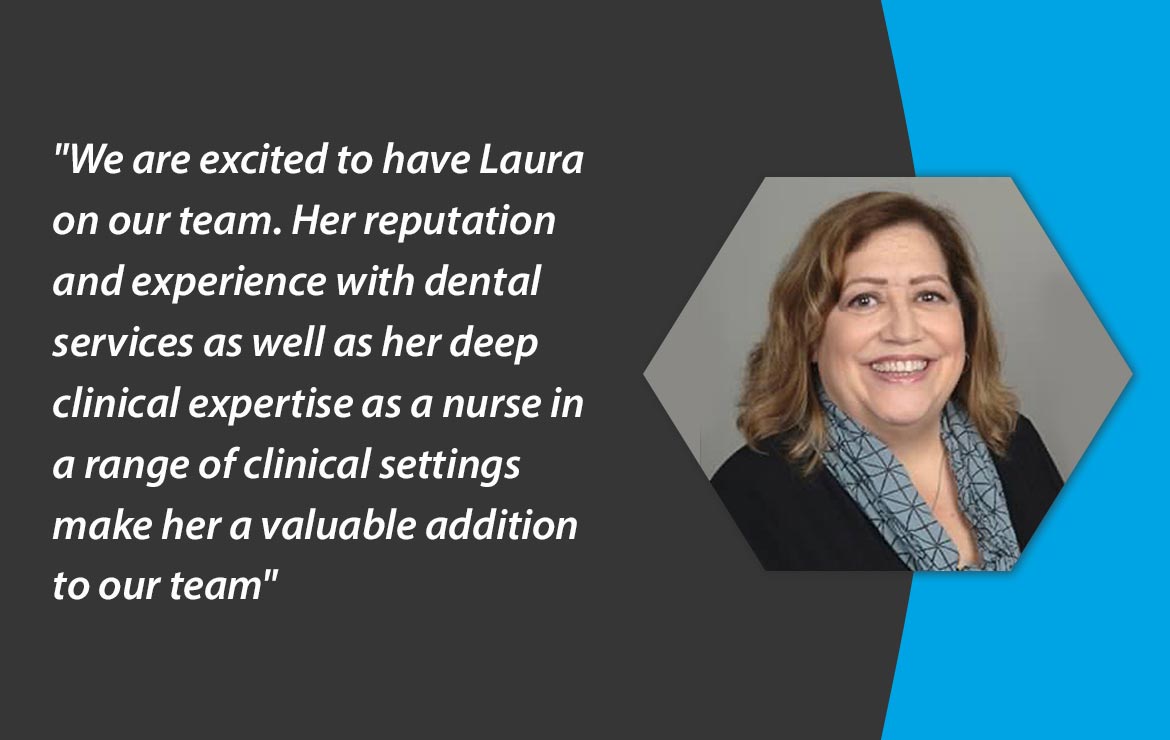 POMPANO BEACH, Fla. (May 18, 2020) — MTI America announces Laura Gorman has joined the company as Dental Product Leader.
Ms. Gorman is responsible for the oversight of MTI America's dental program as well as client liaison with key clients. She will manage the policies and procedures of the dental program as well as oversee client education focused on raising awareness within the workers' compensation community about the features and benefits of their dental program.
"We are excited to have Laura on our team. Her reputation and experience with dental services as well as her deep clinical expertise as a nurse in a range of clinical settings make her a valuable addition to our team," said Janet Kus, President and co-founder.
Before joining MTI, Ms. Gorman worked at The Windham Group as Southeast Regional Operations Manager. Prior to Windham, she worked for One Call for over fifteen years, serving mostly as VP of Clinical Sales in Dental and Doctor services. Ms. Gorman has carved out a niche in the dental space handling workers' compensation cases for almost twenty years. She was the first employee at Express Dental Care, the first dental service specialty provider in our industry.
Ms. Gorman is a regular industry speaker and presenter. She has presented to various organizations including many continuing education (CEU) courses, the American Dental Association, The Association of Dental Consultants, New Jersey IARP, FSARN, and Florida RIMS.
Ms. Gorman is currently enrolled in Aspen University studying nursing science and is a registered nurse with her nursing degree from Hillsborough Community College in Plant City, Florida. She also attended University of Charleston in Charleston, West Virginia.
About MTI America
MTI America delivers ancillary healthcare solutions such as Physical Medicine, Home Health, Diagnostics, Dental, Hearing, Durable Medical Equipment, Transportation and Language Services to workers' compensation patients, adjusters, and case managers. MTI eliminates work from the adjusters' and case managers' desks by delivering appropriate services to patients with critical clinical oversight while ensuring an exceptional customer experience for everyone involved. Headquartered in Pompano Beach, Florida MTI's staff is over 75% bilingual. The company has experienced solid growth over the past five years, now with over 300 employees. The company has an operation office in Tempe, Arizona and opened a third office in Deerfield Beach, Florida. For more information, visit mtiamerica.com or LinkedIn (MTI America).
Media Contact 
Yvonne Guibert
Ph: 813-245-0193
MTI America, marketing / media consultant
yvonneg@expertsinwc.com