MTI America Appoints Matthew Landon as Chief Strategy Officer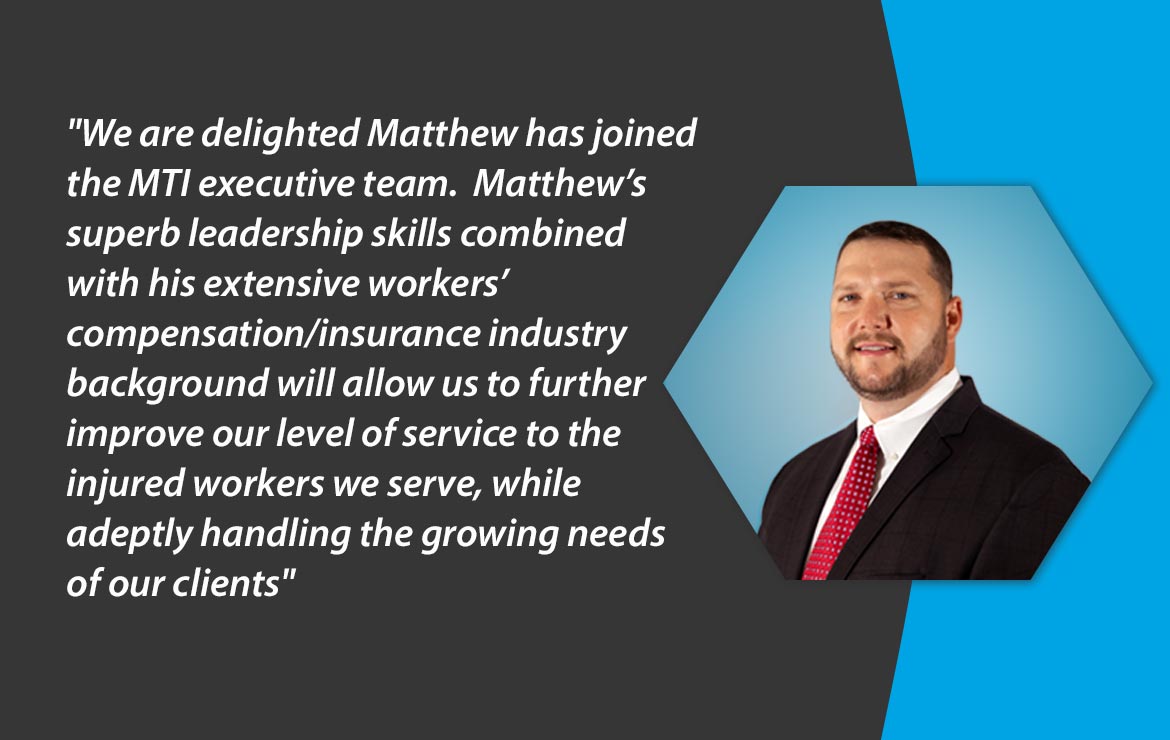 POMPANO BEACH, Fla. (January 22, 2020) — MTI America announces Matthew Landon has been named Chief Strategy Officer (CSO).
Landon will advise the President and CEO in developing MTI's overall market strategy and will oversee the corporate operation and business development functions. As CSO, Landon will play a key role in identifying market transitions to support the company in identifying and executing business growth opportunities.
"We are delighted Matthew has joined the MTI executive team. Our employees are our most valued asset. I'm confident that Matthew's superb leadership skills combined with his extensive workers' compensation/insurance industry background will allow us to further improve our level of service to the injured workers we serve, while adeptly handling the growing needs of our clients," said Janet Kus, President.
Prior to joining MTI, Landon spent the past 20 years in the workers' compensation and managed care industries leading organizations in developing diverse products and strategies to deliver market-leading cost containment solutions. Landon has held operational and technical leadership roles with companies such as Bunch & Associates and Conduent, where he most recently served as Senior Director of Product and Portfolio for their Medical Claims Management division. Holding degrees in Computer Science and Mathematics from Florida Southern College, Landon's technical acuity coupled with his leadership and industry experience brings a depth of new perspectives and capabilities to MTI.
"MTI's concierge approach to delivering ancillary medical services is unique in our industry…and their investments in their technology and their employees show they are true to their mission and set them apart as people who care." Landon commented.
About MTI America
MTI America delivers ancillary healthcare solutions such as Physical Medicine, Home Health, Diagnostics, Dental, Hearing, Durable Medical Equipment, Transportation and Language Services to workers' compensation patients, adjusters and case managers. MTI eliminates work from the adjusters' and case managers' desks by delivering appropriate services to patients with critical clinical oversight while ensuring an exceptional customer experience for everyone involved. Headquartered in Pompano Beach, Florida MTI's staff is over 75% bilingual. The company has experienced solid growth over the past five years, growing from 190 to 250 employees, as well as adding operations in Tempe, Arizona. For more information, visit mtiamerica.com or LinkedIn (MTI America).
Media Contact 
Yvonne Guibert
Ph: 813-245-0193
MTI America, marketing / media consultant
yvonneg@expertsinwc.com