Claudia Rial is MTI's MVP of 2019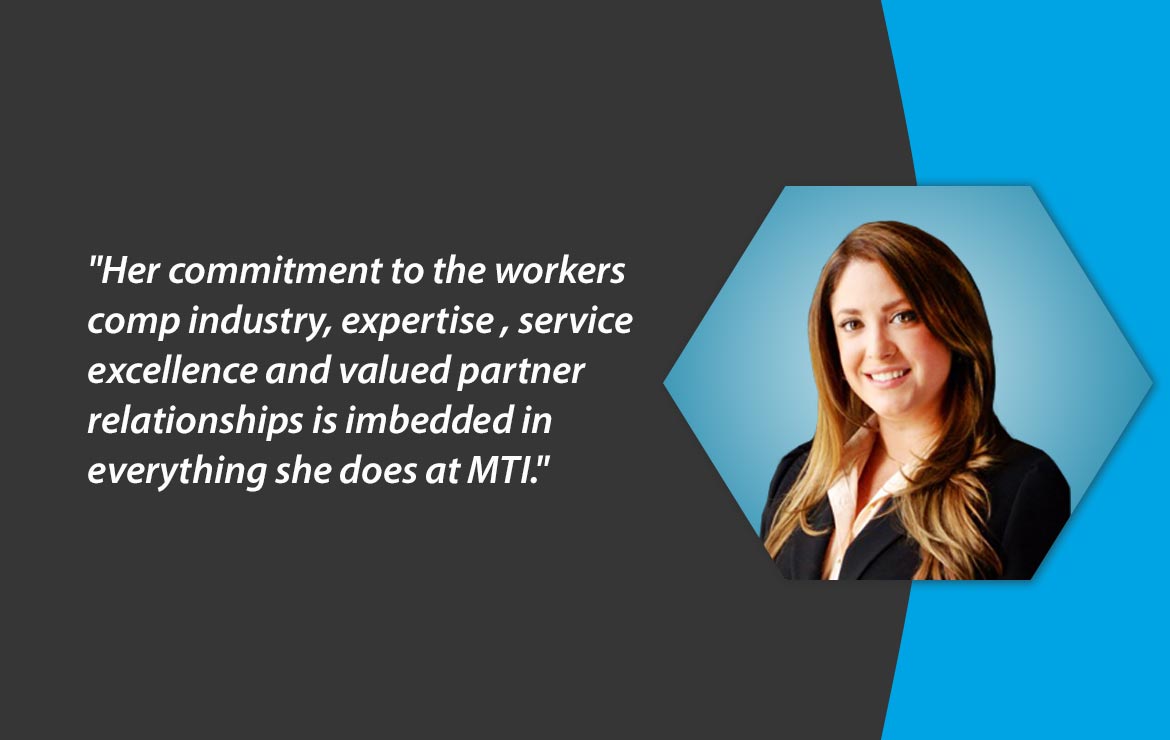 MTI AMERICA Celebrates Claudia Rial, MBA – VP of Operations
Walk into the headquarters of MTI America on any given day, and you'll be greeted with a warm smile and asked to pull up a chair. Here is where you will find Claudia Rial, VP of Operations for MTI America. Claudia has called MTI America home for nearly 14 years.
Ms. Rial started her journey with MTI America in 2005 as a Translations Manager. Soon after, in 2007, she became Director of Operations. In 2014 Ms. Rial embraced the role of VP of Operations, for which she currently serves.
Ms. Rial's ability to not only identify but to also exceed company and client needs has been key to MTI America's success. Ms. Rial played a crucial role in the development of several web tools which are now utilized by MTI America, customers, and service providers alike. She's served in management roles servicing both group health and workers' compensation insurance carriers. In addition, Ms. Rial has overseen multiple operations which have expanded MTI's footprint in the industry. Most importantly, she's built long term relationships with MTI America's national clients.
Ask the team at MTI America to tell you about Claudia. It's not her accomplishments that they will tout-although she's compiled quite an impressive list. They'll tell you about the relationships she's forged and the team that she's built. In Ms. Rial, you'll find that rare combination of having a passion for success without losing compassion for others. Words such as honest, sincere, and mentor have all been used by colleagues to describe Ms. Rial.
"Claudia has been a great leader who is always willing to provide hands-on assistance and works alongside the team. Claudia understands other people's problems and doesn't take anyone's side and tries to help people see both sides of the situation. Claudia is very sincere, she says what she really thinks and feels, honest and straight forward, positive and passionate about her job. The career enhancement here has been wonderful. When Claudia started I was the team lead in the translation department, thanks to Claudia's trust, I was promoted to supervisor and later on to manager. Her input and guidance during the past years have been valuable in helping my career progress."
-Claudia Bugallo, Manager of Translations
"It is a pleasure to work for Claudia Rial because, as a leader, she always makes sure you have the support you need to be able to accomplish your goals. She constantly has your back and works hard to make sure MTI is successful. In addition to her leadership skills, Claudia is fantastic with our customers, and I have never seen a better presenter of our services to our client base."
– Derek Gastesi, Director of Ancillary Services and Training
"Claudia has been a great boss. Not only has she been a mentor to her management team, but she has also been an asset to MTI and our clients. Claudia works to understand the process within our areas and isn't afraid to learn from the team and connect the dots. We were all faced with many challenges over 10 years ago here at MTI. However, we worked as a team to navigate through them, creating processes and workflows and constantly re-developing them to better the clients' experience and ultimately help MTI grow. Claudia was a very important part of that process for us managers and MTI. Claudia's leadership style breeds an environment of comradery among us team players. She makes herself available to help guide and work through challenges."
– Melissa Galea, Director of Transportation & Language Services
"I'm humbled and blessed to work with a professional of Claudia's caliber and honored to recognize her achievements with this award. Her commitment to the workers' comp industry, expertise, service excellence, and valued partner relationships is embedded in everything she does at MTI."
-Janet Kus, Owner of MTI America
Claudia Rial, MBA currently serves in the role of VP of Operations for MTI America. Ms. Rial is responsible for the oversight and operations of the DME, Home Healthcare, Transportation & Translation Departments, and Customer Service Centers, which are operational 24/7/365. Under her guidance, her group identifies and utilizes critical data to create administrative efficiencies and cost savings for MTI's customers.
Ms. Rial holds a Bachelor's in Business Administration from St. Thomas University and an MBA with specialization in Health Services Administration from Nova Southeastern University.