MTI America's Specialty Networks offers a post-acute care solution that encompasses a nationwide network of care providers specializing in long-term acute care, in-patient rehabilitation, assisted living, home health, and skilled nursing facilities.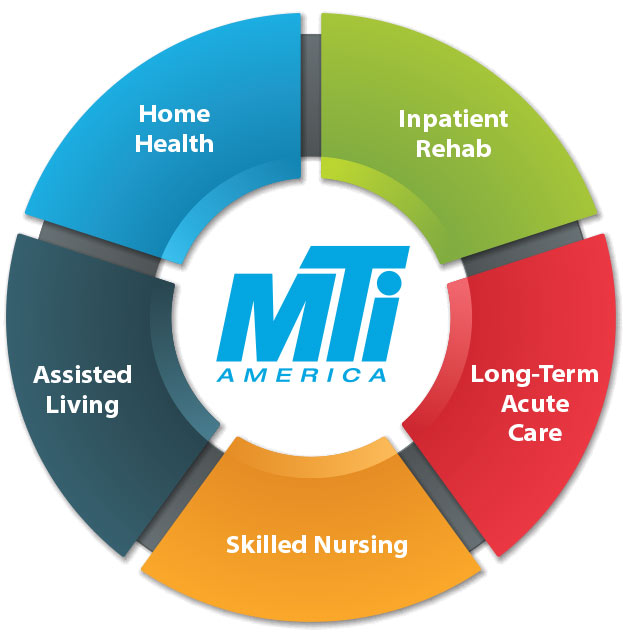 Network Coverage and Quality
Our post-acute care network consists of over 6,000 providers and locations in 49 jurisdictions. Every skilled nursing facility is credentialed to ensure that licensure and insurance requirements are met and maintained.
Care Coordination
Our care coordinators are trained to refer patients to the appropriate facility based on the nature and extent of their injuries, as well as the specific capabilities of the facility. This approach assists in providing severely injured patients with the right care, at the right level, and at the right time.
Client Savings
We deliver savings that average 17% below fee schedule and/or U&C allowance. Savings vary by state.
When to Make a Referral for Post-Acute Care
Orthopedic fractures, strains, sprains, post-surgical hardware failure/infection.

ABI (Acquired Brain Injury) and/or loss of consciousness, altered mental status.

Spinal Cord Injury and/or paralysis. Infection Control management due to sepsis, hardware failure, surgical or pressure wounds.

Wound care due to non-healing surgical/pressure wounds.

Burns – Multi-Organ Trauma – Renal Disease or Kidney Failure requiring dialysis.

Renal failure/dialysis
Decline in Functional Status
Direct placement for an existing injury due to a decline in functional status and/or activities of daily living after initial treatment and the injured worker has attempted return to work or the home setting.
After Acute Care Hospital or ASC Procedure
Injured worker requires PAC placement after the existing injury was treated and now requires post-surgery therapy, non-weight bearing status, and/or I.V. regimen of complex antibiotics. The adjuster is typically notifed in advance of this type of PAC referral by the OccMed provider.

Our Clients Say it Better Than We Do
"I had the pleasure of working with Renee Espiritu regarding an electric wheelchair. We discussed the needs of the claimant, and she understood. Renee did an excellent job of discussing the claimant's needs to different vendors and obtaining a reasonable price, and also getting his needs met. Thank you, Renee and MTI"
Meeting the Claimant's Needs
Albert Ayala | Senior Claims Adjuster | Argo Group
"Continued praises for MTI and the team members. Diana jumped on this referral and was so extremely helpful in finding a solution in record time. Just love having you guys as a vendor! Thank you again!!!"
Love Having You Guys as a Vendor
Senior Nurse Case Manager
"Your focus on best customer support, positive attitude, ability to effectively problem solve and professionalism, make my job as a nurse case manager easier. I appreciate you."
You Make My Job Easier
Nurse Case Manager