A cloud-based solution with an interactive patient application that delivers virtual reality video sessions while using  MoveAITM technology to detect movement and provide real-time feedback with no external sensors or hardware.
Secure & HIPAA Compliant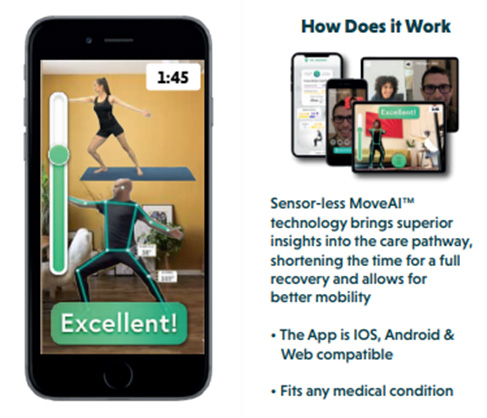 Automation, Evaluation, and Analysis
This technology replaces the facility movement lab by automating and evaluating patients' movement patterns to reveal their core deficits. It then analyzes the collected data to offer the highest potential intervention for orthopedic, neurological, cardiology, and movement disorders.
Guiding Success
The five parameters that drive the success of the technology include range of motion, speed, jerk, symmetric view of performance, and exercise accuracy per repetition. The AI technology guides patients to execute exercises accurately and with reassurance regarding exact movements and related goals.