Continuing the Conversation about Physical Therapy vs. Pain Management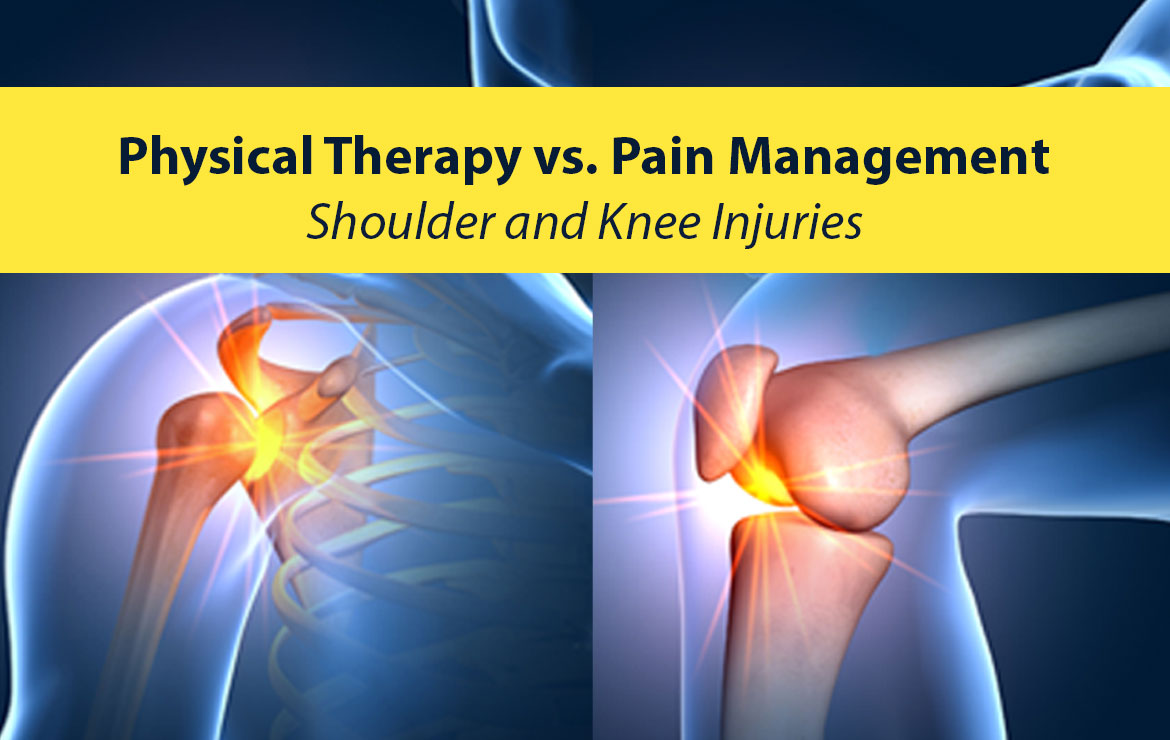 On March 30th, 2022, MTI America conducted a webinar about Physical Therapy vs. Pain Management: Shoulder and Knee Injuries hosted on WorkCompCentral. James Kercher, M.D., (Orthopedic Surgeon), Keith C. Raziano, M.D. (Pain Management), Laura Gorman, RN with MTI, and Susan Emerson, former GM of Delta Airlines, went head-to-head to discuss what happens when conservative treatment doesn't relieve pain. The panelists also discussed understanding when it is beneficial to refer to pain management and why communication with all stakeholders is essential.
The captivated audience learned so much during the webinar, they wanted to extend it for another hour.  In response, participants submitted their unanswered questions to MTI who collaborated with the panelists to provide the following answers:
Is telemedicine alone useful? Is it sufficient? Should it even be done?
All of our panelists agreed telemedicine has been an excellent tool in workers' compensation to allow for the quick and convenient evaluation of injured or ill workers. Although not all medical situations are well-suited for telemedicine, where appropriate, telemedicine has proved to be an invaluable tool in facilitating compliance with treatment protocols. Gorman noted additional benefits such as decreased patient anxiety, reduced risk of infection, and the elimination of transportation costs.
In pain management, Dr. Raziano commented it is very effective and useful, especially for follow-up visits, in determining progression with therapy. In Dr. Kercher's experience, it's definitely sufficient for close to 90% of follow-up cases and should be continued if possible.
On the topic of overcompensation, a participant said "to state a person puts more weight on one leg because of a problem in the other is fictitious because when a person walks, they put all of his/her weight on one leg followed by all of their weight on the other.  What may result is spending more time on the uninjured side which may lead to irritation or discomfort."  Do you agree?
Dr. Raziano agreed with this statement. The main reason is that I have seen a multitude of non-work-related injuries, and none have ever developed contralateral pathology that can reasonably be attributed to 'overuse'. There are rare instances where this might be seen, but that typically would correspond to an injury on the contralateral side that is not quite as severe and will simply manifest later.
What are your thoughts regarding a Pain Management clinic that keeps prescribing opioids?
Dr. Raziano said his thoughts depend on the pathology being treated. There are many cases where a patient has suffered a very severe injury and required extensive surgical treatment.  Cases of a failed multi-level fusion come to mind.  There is a significant cohort of patients who continue with persistent nociceptive pain despite surgical intervention who respond to reasonably low doses of opioids, and this maintains their overall level of pain control while allowing for functionality.
In the absence of clear and reasonable pathology, ongoing opioid therapy is not indicated. The utilization of opioids (and any other treatment modality) should be analyzed in concert with the patient's overall level of functionality in all cases.
Why does frozen shoulder(adhesive capsulitis) sometimes result in non-surgical shoulders, despite the utilization of physical therapy? When is Manipulation Under Anaesthesia (MUA) necessary for a frozen shoulder which was not previously operated on?
Dr. Kercher says that adhesive capsulitis in and of itself is typically idiopathic.  The mainstay of treatment for adhesive capsulitis is physical therapy for several months supplemented with injections.  This must be differentiated from a frozen shoulder postoperatively.  If the joint becomes frozen postoperatively from noncompliance or lack of therapy, this is more commonly managed surgically with lysis of adhesions and manipulation of the joint.
When someone has a meniscus tear, I've seen some doctors treat conservatively (via therapy or work-hardening). How do you determine whether to perform an arthroscopy vs conservative treatment? If doing conservative treatment, does the knee eventually repair itself?
Dr. Kercher explains that meniscus tears are common and typically occur early in the early phases of the degenerative process.  In the absence of mechanical symptoms such as locking or catching of the joint, most are treated conservatively. Typical indications for arthroscopic intervention would be a failure of conservative measures, locking or catching (mechanical symptoms), or on the rare occasion a locked joint when the meniscus flips in such a way that the joint becomes immobile. Meniscus tears do not heal themselves but are common findings and not always symptomatic. The most important point is to not focus on the MRI finding of the meniscus tear but on the patient's symptoms.
Check out our recorded webinar to learn more about Physical Therapy vs. Pain Management: Shoulder and Knee Injuries.
About MTI America's Physical Medicine Program
Physical medicine plays a critical role in an injured worker's recovery and that is why MTI is proud to be a leading provider in the workers' compensation industry. Our commitment is to deliver collaborative, compassionate care to restore the patient in-person, on-demand with telerehabilitation, or through a hybrid approach. MTI's integrated care coordinators match the patient's unique needs with our extensive network of credentialed providers using our state-of-the-art platform, MTi360.
We're all about outcomes and measuring program performance:
98.2% Program Success Rate
48-72 Hour TAT from RX to Evaluation
18% Decrease in Claims Duration
10 Year Average Hands-On OT/PT Experience
And More