Looking Toward the Future with Virtual Physical Therapy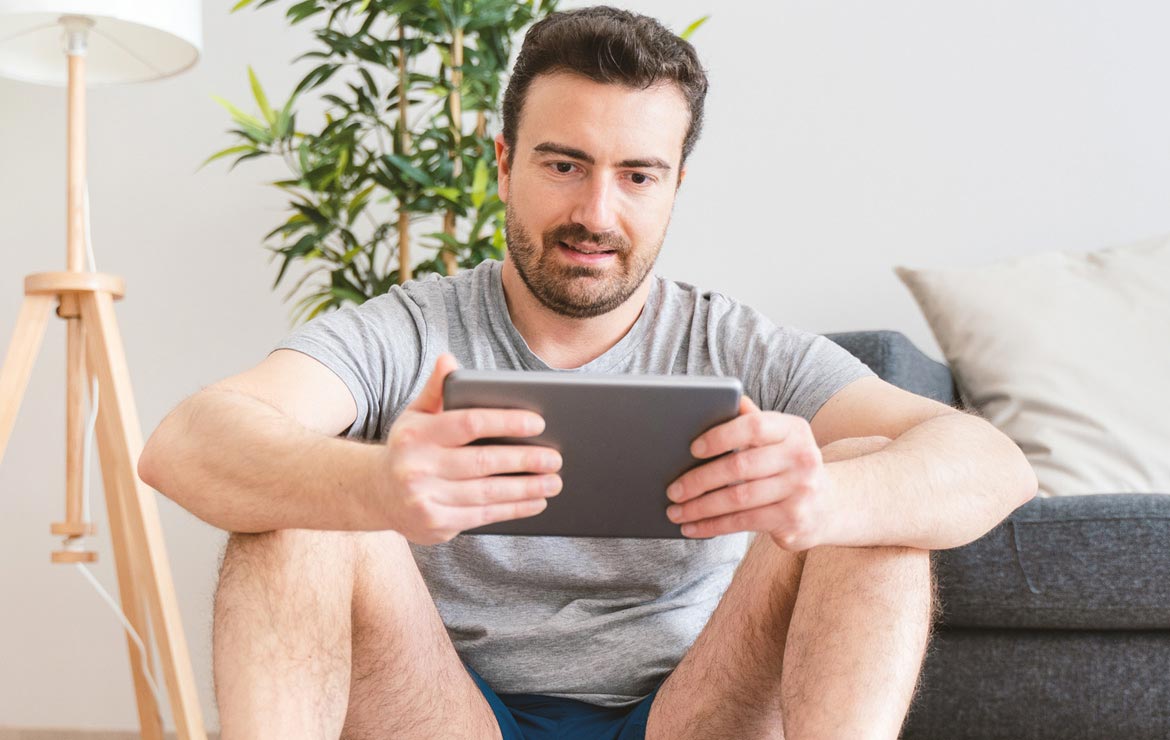 Physical therapy (PT) is essential for helping injured workers return to work, and its benefits are clear. However, there are many reasons why an injured worker might not be able to get to PT—whether it's transportation issues, mobility issues, a disability, or because they live in an underserved community. With the COVID-19 pandemic here for the foreseeable future and a large portion of injured workers now in isolation or under strict quarantine measures, it's clear that standard PT is no longer a viable option for many.
The solution? Virtual physical therapy (virtual PT, also known as telerehabilitation), one of the many telemedicine options now available through MTI that makes it easy for workers, therapists, and other stakeholders to work together toward the goal of getting the injured worker back to work.
"The prevailing mindset has been that telemedicine will be more widely used sometime in the future," said Marc Pyatt, Physical Medicine National Product Leader for MTI America. "However, the impact of COVID-19 is demanding we re-think that widely held belief. Through virtual PT, I can reduce my patient's infection risks and serve those already quarantined by remotely treating them in their own homes. Telemedicine is the right tool for the job and the future is now."
How Does Virtual PT Work?
Telemedicine is any clinical care done at a distance. Some forms of telemedicine have been around for a while—such as healthcare providers using email and videoconferencing to connect with patients.
However, recent advances in telemedicine go beyond communication to more advanced tools such as apps, tracking devices, and other gadgets like 3-D goggles, robotic gloves, and motion tracking. Virtual PT can allow healthcare providers to directly observe patients performing exercises and provide feedback in real-time. Because multiple people can participate in a virtual PT session, it also allows for consistent care coordination between multiple care providers.
During the COVID-19 pandemic, virtual PT helps to support isolation and social distancing measures and frees up critical healthcare resources while still supporting long-term rehabilitation goals.
"Advances in virtual PT are making it possible to transform the traditional outpatient therapy model," said Pyatt. "I can triage the in-clinic schedule so only the most acute and low-risk patients are seen in person while scheduling less complex and high-risk cases to be treated remotely. During the current pandemic and going forward this may be the preferred model for physical therapy."

The Benefits and Challenges of Virtual PT
Virtual PT is just as safe and affective as traditional, in-person care—and may have even more advantages.
A recent study published in The Journal of Bone & Joint Surgery found patients who received knee replacements and participated in virtual PT completed more days of therapy per week on average. This group also had fewer readmissions to the hospital and experienced less difficulty with knee function during particular activities than those who received traditional physical therapy.
Virtual PT is lower in cost, as well, due to reduced transportation expenses and less time spent traveling to and from an outpatient clinic from work or home. In addition, virtual PT provides convenience to the injured worker, particularly those who live in rural areas or have transportation or mobility/disability issues. Younger workers may also be more likely to use virtual PT and telemedicine given their comfort with technology.
With these advantages, it's clear why telemedicine in general is a fast-growing trend. In fact, recent research shows that non-hospital telemedicine grew a whopping 1,393% from 2014 to 2018.
However, virtual PT is not without its challenges in both adoption and rollout. In some cases, an injured worker may require a more thorough checkup or exam than what a remote session can provide.
Other challenges include privacy concerns, technology issues, worker reluctance, and slow adoption rates across the worker's compensation industry.
"Implementing change is always challenging," said Pyatt. "At MTI, we're working to educate and communicate the research-based benefits and efficacy of telerehabilitation. It's never been easier and more affordable to access virtual PT and quality providers through Internet platforms that are HIPAA compliant, encrypted, and secure."
The MTI Virtual PT Advantage
MTI's virtual PT/telerehab service offers personalized one-on-one sessions with a licensed therapist. It can even accommodate up to six people per session, allowing for greater clinical collaboration and continuity of care. The goals are to help decrease therapy session cancellation rates and keep injured workers progressing through recovery.
MTI's telerehab program offers:
User-friendly video therapy sessions
Personalized physical therapy program
Engagement that helps to ensure intended outcomes and compliance
Real-time text messaging between the injured worker and therapist
HIPAA compliant with encrypted end-to-end security and privacy
Video remote interpretation for non-English speaking workers
At MTI, the focus is always on the future. Long after COVID-19 is gone, telemedicine will still be here—and may even continue to expand as it gains further acceptance among insurers and providers. The future is wide open. Improved technology in telemedicine may soon lead to reduced administrative costs, better access to care, and even improved diagnoses and treatment using artificial intelligence tools.
"MTI telerehabilitation will continue to be a more utilized service in physical therapy than before COVID-19," said Pyatt. "I expect traditional, in-person outpatient services will become blended with virtual PT to reduce over-crowding in clinic's common treatment areas. By strategically utilizing both in-clinic and remote physical therapy services, MTI can guide patients to recovery while reducing any risks both now and into the future."
To learn more about the MTI telerehab program, visit: mtiamerica.com/telerehab
Get started now by submitting your telerehab referral to telerehab@mtiamerica.com.