MTI's We Care Culture: How It Enhances the Human Connection in Workers' Compensation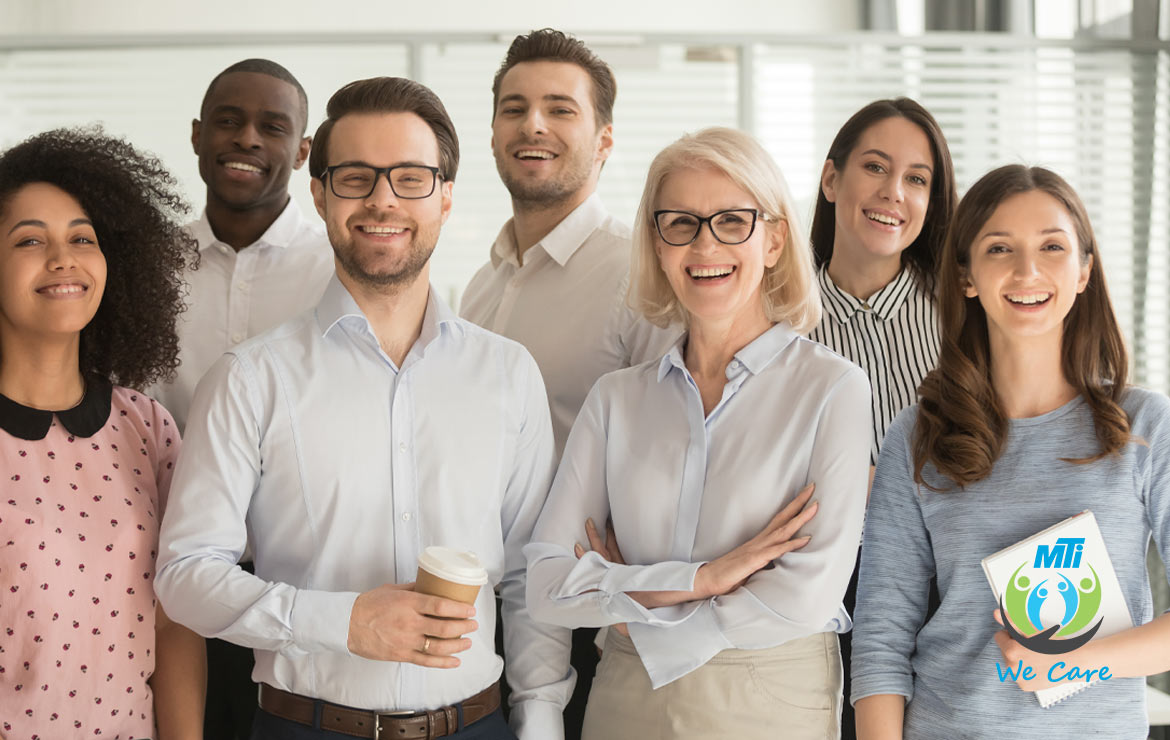 At MTI America, we pride ourselves on our employee-centric culture. We believe happy employees lead to satisfied clients, so we invest heavily in creating a positive work environment. Our employees are provided with the resources and support they need to succeed and know their efforts are appreciated. They are knowledgeable about our services and always willing to go the extra mile to help our clients. As a result, our customers can always expect to receive the highest service level when interacting with us.
We care about our employees. We know that a business's most important asset is its people, so we developed a We Care culture to show how much we value our employees and welcome them on board as members of the MTI family.

Onboarding and Continuing Education
Our best asset is our people and our mission from day one is to provide our team with the education, knowledge and support for them to thrive. We understand the true value of delivering services flawlessly with compassion.
We Care Monthly Publication
We take our We Care culture seriously. We celebrate and share birthdays, anniversaries, milestones, and more.  Every month our team picks an employee who has gone above and beyond to provide excellent care for workers' compensation patients while also providing them with training so that they can continue being successful at whatever role this person may have within your organization.

Shine Program
The Shine Program is part of our We Care culture. It showcases employees going above and beyond to help clients, which we demonstrate through a unique monthly publication featuring stories from various stakeholders.
We are proud of our employee's dedication to providing compassionate, expert care to help our clients and injured workers navigate the complexities of healthcare.

Core Values
At MTI America, we believe our success is built on a foundation of core values guiding everything we do. These values define who we are as an organization and shape how we interact with our clients, our employees, and our community. We created our core values to ensure that everyone who is part of MTI America shares the same commitment to excellence, compassion, integrity, communication, and teamwork. By living these values every day, we create a positive working environment where everyone can thrive. Our core values help us to serve our clients better and to build lasting relationships with them. Our goal is always to be a company you can count on to do the right thing, and we hope our core values help us achieve that.
Excellence
Commitment to quality, service, and continuous improvement
Compassion
We Provide excellent service with personal kindness
Integrity
Our actions are guided by our ethical commitments
Communication
We engage through effective communication
Teamwork
Together we are stronger
At MTI America, there are plenty of activities to help make the environment fun and enjoyable. That's why we offer a variety of activities to help our employees feel connected and engaged. From bringing your dog to work day to sharing family photos to ice cream socials and holiday parties, there's always something to look forward to at MTI America.
Our We Care culture creates a workplace where people can thrive, and we're proud to say that our employees are some of the happiest and most engaged in the industry. When you join MTI America, you become part of a team that values your contributions and helps you reach your full potential.
At MTI, we are always looking for talented and ambitious individuals to join our team. We offer a wide range of career opportunities, from entry-level positions to senior management roles. We are committed to providing our employees with the resources and support they need to succeed. If you are looking for an opportunity to grow your career, we encourage you to explore our open positions. Visit https://www.mtiamerica.com/about/culture/ to learn more about what it's like to work at MTI. We look forward to hearing from you!