Dental injuries require in-depth clinical expertise to manage claims throughout their life cycle.
Ongoing advances in technology, coding updates, and fragmented networks have made controlling dental claims more challenging for claims professionals while ensuring quality care and treatment of the injured worker. MTI dental in-house experts assist claims professionals and nurse case managers in making appropriate dental referrals and coordinate dental care so injured workers receive the right treatment from the right specialist at the right price.
Dental Specialists
Endodontists
General dentists
Oral surgeons
Orthodontists
Periodontists
Prosthodontists
TMJ & TMD Specialists
In-Depth Clinical Expertise
Evaluation and treatment
Coordination with specialists
Second opinion
IME/AME/QME
Peer Review
Fee Review
Future Dental Costs
Surgical Clearance
Laura Gorman RN
Dental Product Leader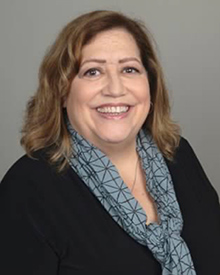 Laura Gorman
is responsible for the oversight of MTI America's dental program as well as client liaison with key clients. She will manage the policies and procedures of the dental program as well as oversee client education focused on raising awareness within the workers' compensation community about the features and benefits of their dental program.

We're All About Outcomes
and Measuring Program Performance
24 – 48 Hrs
Scheduling and
Confirmation TAT
32%
Decrease ER/Dental Visits
5 Star
Nationwide, Vetted Dental Network
5 Years
Average Tenure of Dental Care Team Coordinators
24 Hrs
IE Texting Reminder of Scheduled Appointment
Case Study
MTI's  Dental Team Saves Carrier

$17,193
The adjuster was happy with our intervention and expertise on this difficult dental case and we were able to help her manage all aspects of the dental part of the claim. We want to partner with our customers to provide them with our expertise and their directions.

Our Clients Say it Better Than We Do
"Continued praises for MTI and the team members. Diana jumped on this referral and was so extremely helpful in finding a solution in record time. Just love having you guys as a vendor! Thank you again!!!"
Love Having You Guys as a Vendor
Senior Nurse Case Manager
"Your focus on best customer support, positive attitude, ability to effectively problem solve and professionalism, make my job as a nurse case manager easier. I appreciate you."
You Make My Job Easier
Nurse Case Manager
"Once again, I cannot tell you what a great job Evy Girardo in Physical Medicine is doing. Even my injured workers comment on what a good experience they had scheduling their PT. In what has to be some of the weirdest and most challenging circumstances to work in, her consistent performance is just that: Consistent."
Good Customer Service
Nurse Case Manager