What you need to know about lower limb prostheses and factors that drive up costs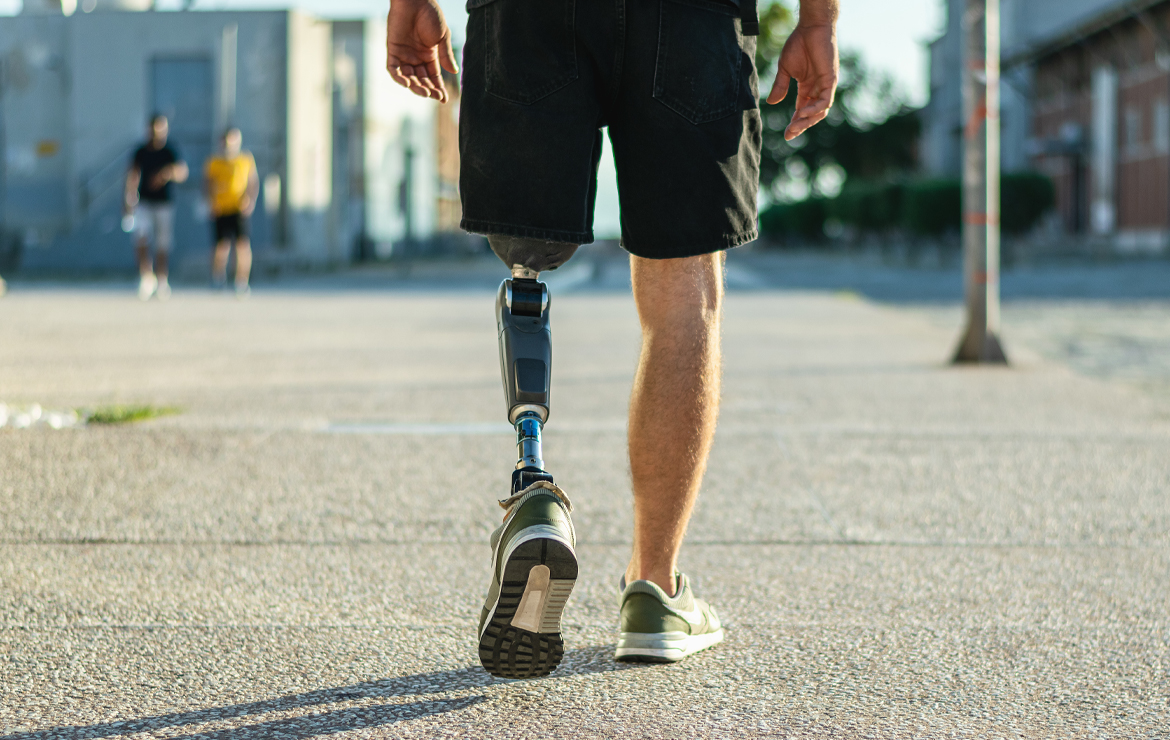 A complex claim involving a prosthetic can be overwhelming and present unique challenges from a clinical and financial perspective. If managed properly, the injured worker and payor experience improved outcomes.  For example, the injured worker may return to work with the lifestyle they enjoyed before the injury and the payor saves money by avoiding some of the unnecessary features and expenses that can quickly get out of control in these cases.
The most common type of prostheses in workers' compensation are digits and lower limbs.  In this article, we will be focusing on the lower limb.
What are the different parts of a prosthetic leg?
The prosthetic leg is made of lightweight yet durable materials. Depending on the location of the amputation, the leg may feature functional knee and ankle joints.
A socket is a precise mold of your residual limb that fits snugly over the limb. It helps attach the prosthetic leg to the body.
Interface (where the liner contacts the skin)
The suspension is how the prosthesis stays attached, whether through sleeve suction, vacuum suspension/suction, or distal locking through pin or lanyard.
Pylon/frame
Knee unit
Foot/ankle complex
Lower leg and foot. A number of prosthetic feet are available to simulate the action of a natural foot after an amputation below the knee. At least one available foot-ankle prosthesis is controlled by a microprocessor. It uses feedback from sensors to adjust joint movement, making walking more efficient and reducing the risk of falls.
Leg with knee. For amputations above the knee, the prosthesis has both a knee and ankle joint. Currently, there are more than 100 prosthetic ankle, foot, and knee models. Some use fluid or hydraulic-controlled devices that let users vary their walking speed. Others use computerized parts that let the user make rapid real-time adjustments while walking.
There are numerous options for each of the above components, each with its own pros and cons.
Choosing the right prosthetist is essential to a successful outcome. 
When it comes to amputation, each person is unique.
A prosthetist is a health care professional who designs the prostheses and can help select the right components. They will take measurements, make impressions and develop templates as needed to ensure the device fits accurately. They will also create a plan that addresses the injured worker's needs and goals, including pain reduction, comfort, stability, mobility, and aesthetics.
Overall, your prosthetist is responsible for a successful connection between the patient and the prosthetic.
 What factors affect the price?
The type of amputation is a significant factor because lower leg prostheses generally cost much less than artificial legs that require knees. The price for above-knee prostheses is high because of the different mechanisms used to create a bending knee. New amputees sometimes start with the least expensive type of knee, known as a polycentric or mechanical knee. This joint is a simple one that is operated manually to move the leg forward. A hydraulic knee has a higher cost because the movement allows a slightly more natural gait and requires less effort to extend the knee when taking a step. A slower, more fluid motion is a significant benefit that will increase costs. The most expensive type of artificial leg is an electronic knee. These are battery operated and use a microprocessor to produce the most natural gait once the user becomes accustomed to the movement.
If prosthesis design is a leg-like shape and given the appearance of skin tone, the cost will usually be higher than one that is purely functional. The price of a prosthetic leg designed for a particular purpose, such as jogging or running, is usually the highest.
Free Webinar
Learn what questions to ask when managing a prosthetic claim so that expenses are not spiraling out of control. Attend our webinar "Prosthetic Update for Lower Limb Amputation."
About MTI's Prosthetics
MTI offers a robust network of accredited providers. Our dedicated prosthetic coordinators and RN oversight teamwork ensure communication and collaboration between the injured worker, provider, claims adjuster, and nurse case manager.
MTI's 360-degree approach offers solutions for the patient's other needs like transportation, translation, imaging, other DME, and therapy. And with all services housed in one state-of-the-art platform, MTi360, all stakeholders save valuable time.
"MTI's prosthetics provider worked with me to explore options and find the best solution based on my needs before I even had my surgery."
– Injured Worker in Orlando, FL.